***   $5 Off   ***
Pinot Noir
Pinot Blanc
Australian Shiraz
Australian Chardonnay

THE most LOVED and requested limited release wine is back!!
The four grapes in Pacific Quartet create a show-stopping blend with brilliant flavours of apple, stone fruit, lychee, rose petals, and orange peel. Full-bodied yet supple, this off-dry wine with balancing acidity pairs perfectly with spicy and savory dishes.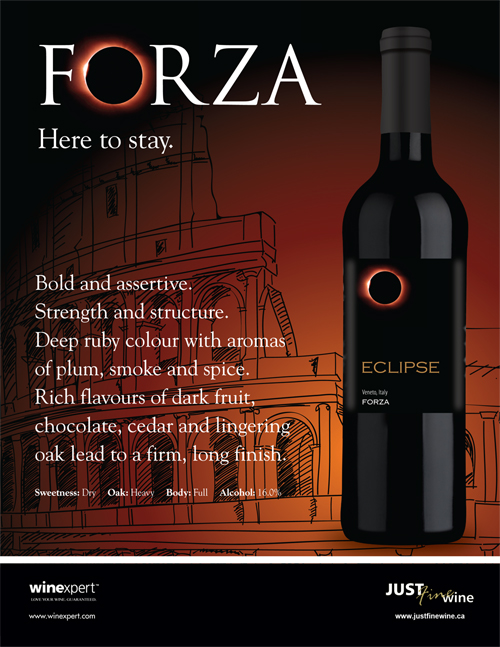 Here to stay.
Bold and assertive with strength and structure, Eclipse FORZA quickly became an immensely popular "short run" offering back in 2015. Now it's back and here to stay!
FORZA, which means strength in Italian, is a bold red blend from Veneto, Italy. It's a spectacular partnership of Corvina, Sangiovese and Barbera and includes grape skins for added depth. Due to overwhelming popular demand, Winexpert has secured a regular supply of superb, quality juice to ensure Eclipse FORZA will be available on an ongoing, year-round basis. FORZA's return coincided with the total lunar eclipse on January 31, 2018.
It's not too late!
We have a limited amount of the amazing Limited Edition 2017 MILAGRO BLANCO in stock. MILAGRO BLANCO carries notes of passion fruit and white flower on the nose, and is supported by juicy melon, peach, fresh lime and grass with a hint of honey on the palate.
Call or email to get yours now!
Mother's Day is fast approaching!
Wondering what to get Mom this Mother's Day? A gift certificate to make her own wine is a unique and fun gift idea! Our gift certificates are available in any amount you would like. Drop in to pick one up!
Make Winery Quality Wine for Less

Proudly Serving the Niagara Peninsula since 1998