We offer many different beer styles to choose from including a light bodied cerveza; crisp pilsner and lagers; flavourful, hoppy ales; and rich malty darks, plus specialty brews to celebrate the four seasons.
Designed exclusively for those with a taste for micro-brewed beers, the Brew House craft beer kits have made quality craft brewing simple for almost 20 years! Make your favourite style of all-grain craft beer in just a few weeks and enjoy a truly great beer with fresh and pure flavours and aromas.
Truly great beer requires quality ingredients and a skilled brew master.  That's where the Brew House comes in.  In our 3-vessel craft brew house, our brew master transforms the best barley, malt and hops into small batches of fresh wort.  We then immediately package this wort, capturing all its delicate aromas and flavours.  No sugar, no concentrate. No extract.
Just pure, fresh, unfermented beer!
Festa Brew offers a comprehensive selection of premium pasteurized, ready-to-use all grain brewers wort ready for fermentation in home brewing, brew-on-premise and commercial applications. The comprehensive line-up of popular beer styles is made from premium North American and European ingredients. Prepared from fresh malted barley, hops and water in our modern brewhouse and operated by brewing professionals, the result is fresh, premium wort ready to use without dilution. Year round availability means there is no reason to run out of great tasting beer. Festa Brew also releases seasonal specialty styles on a one-time, limited availability basis for an exciting and ever-changing array of offerings for the aficionado of world beer styles.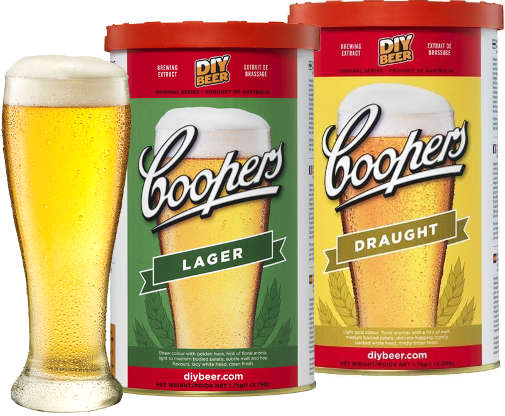 Coopers Beer Kits
Coopers beer kits are one of the easiest ways to make beer at home. We offer Coopers Draught & Lager brew kits.